Summer Quotes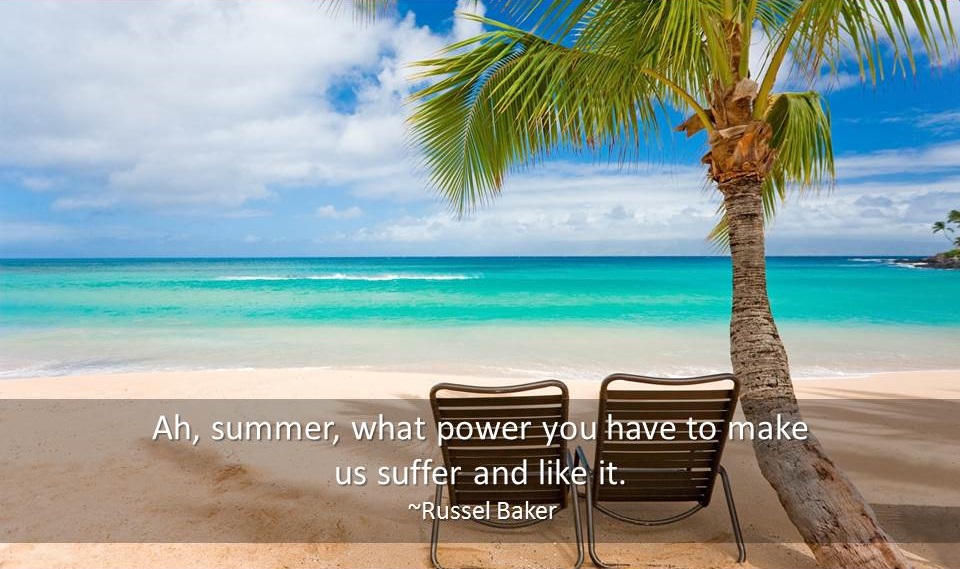 Welcome to Summer Quotes. Here you will find famous quotes about summer and summer quotations.

Summer Quotes - Quotes about Summer
A life without love is like a year without summer. ~Swedish Proverb
A man says a lot of things in summer he doesn't mean in winter. ~Patricia Briggs
A perfect summer day is when the sun is shining, the breeze is blowing, the birds are singing, and the lawn mower is broken. ~James Dent
Ah, summer, what power you have to make us suffer and like it. ~Russel Baker
America may be the best country in the world, but that's kind of like being the valedictorian of summer school. ~Dennis Miller
Among the delights of Summer were picnics to the woods. ~Georg Brandes
And so with the sunshine and the great bursts of leaves growing on the trees, just as things grow in fast movies, I had that familiar conviction that life was beginning over again with the summer. ~F. Scott Fitzgerald
Any pitcher who might throw at me should know I'm not giving up my day job or trying to get anyone else's job. I just can't think of anything cooler than being one of the boys of summer! ~Garth Brooks
August, the summer's last messenger of misery, is a hollow actor. ~Henry Rollins
Being a child at home alone in the summer is a high-risk occupation. If you call your mother at work thirteen times an hour, she can hurt you. ~ Erma Bombeck
Summer Quotes - Quotes about Summer
By all these lovely tokens September days are here, With summer's best of weather And autumn's best of cheer. ~Helen Hunt Jackson
Deep summer is when laziness finds respectability. ~Sam Keen
Do what we can, summer will have its flies. ~Ralph Waldo Emerson
Each fairy breath of summer, as it blows with loveliness, inspires the blushing rose. ~Author Unknown
Every summer, around late July and into August, I find myself in Europe, performing at any festival that will have me. ~Henry Rollins
For one swallow does not make a summer, nor does one day; and so too one day, or a short time, does not make a man blessed and happy. ~Aristotle
From 1971 onwards, the Memorial Day holiday was officially observed on the last Monday in May and became the unofficial start of the summer, with barbecues, blockbuster movie openings and mattress sales. ~Allen West
God is day and night, winter and summer, war and peace, surfeit and hunger. ~Heraclitus
Grilling outside with my parents at the Jersey shore. We would grill lobster and corn in the summer. ~Bobby Flay
Heat, ma'am! it was so dreadful here, that I found there was nothing left for it but to take off my flesh and sit in my bones. ~Sydney Smith
Summer Quotes - Quotes about Summer
Hey! It's summer! Be free and happy and danceful and uninhibited and now-y! ~Terri Guillemets
I almost wish we were butterflies and liv'd but three summer days - three such days with you I could fill with more delight than fifty common years could ever contain. ~John Keats
I am climbing Mt. Kilimanjaro in Africa this Summer as a personal physical goal for myself, but also as a way to bring on sponsors and raise awareness and funds to help benefit the programs and initiatives of Chefs for Humanity. ~Cat Cora
I am just through with a summer, and a summer is to me always a trying ordeal. ~Maria Mitchell
I believe that summer is our time, a time for the people, and that no politician should be allowed to speak to us during the summer. They can start talking again after Labor Day. ~Lewis Black
I came back out here from England and I was there for a while and it was beautiful and it is just great to see London going from Spring to Summer and Autumn. ~Orlando Bloom
I drifted into a summer-nap under the hot shade of July, serenaded by a cicadae lullaby, to drowsy-warm dreams of distant thunder. ~Terri Guillemets
I had a really nice childhood; I had great parents. I earned my allowance by washing dishes, and in the summer I earned my allowance by working in daddy's garden. ~Nikki Giovanni
I have family obligations and all that stuff. I get my kids six weeks in the summer, which is a real intense period of time. I'm with them every minute of the day. ~Tom Berenger
I like acting for now. But after seeing Apollo 13, what I really want to do is to be an astronaut. I'm dying to go to a space camp next summer! ~Natalie Portman
Summer Quotes - Quotes about Summer
I like summer. I like warmer weather and long days. I'm one of those silly people who still enjoy lying in the sun - my children are horrified! ~Danielle Steel
I rarely see one of the 'summer blockbuster' movies. I'd like to see a stronger focus on smaller, smarter movies. ~Christopher Meloni
I still consider it a summer job, though. So, I try to maintain that summer job as long as I can. But it's exciting to be able to have the opportunity to do things I always dreamed of as a kid. ~Jimmy Buffett
I walk without flinching through the burning cathedral of the summer. My bank of wild grass is majestic and full of music. It is a fire that solitude presses against my lips. ~Violette Leduc
I was four years old then, and I think it must have been the next summer that I first heard the voices. ~Black Elk
I was thinking that we all learn by experience, but some of us have to go to summer school. ~Peter De Vries
I will always remember this summer day in Paris, when I was to perform a great acrobatic move. I can still see myself stepping on the ring of a packed circus along real performers. ~Tony Curtis
I'd love to compete in the Summer Olympics. ~Shaun White
If a June night could talk, it would probably boast it invented romance. ~Bern Williams
If it could only be like this always - always summer, always alone, the fruit always ripe... ~Evelyn Waugh
Summer Quotes - Quotes about Summer
I'm a regular Canadian girl. I enjoy staying home. In the summer I've got a garden. I'm very much a homebody, a normal, family-oriented girl. But I do have this other incredible side of my life that involves acting and traveling. ~Elisha Cuthbert
In June, as many as a dozen species may burst their buds on a single day. No man can heed all of these anniversaries; no man can ignore all of them. ~Aldo Leopold
In my day, at 12 years old, which was 38 years ago, we worked out in summer months for two and a half hours. Today someone in that age group might work out for four hours, two hours in the morning and two at night. ~Mark Spitz
Summer Quotes - Quotes about Summer
In summer, the song sings itself. ~William Carlos Williams
In the depth of winter, I finally learned that within me there lay an invincible summer. ~Albert Camus
In the summer of 1776 our Founding Fathers sought to secure our independence and the liberties that remain the foundation of our nation today. ~Doc Hastings
In the summer of '84, you just couldn't escape the Born in the USA record. ~Henry Rollins
In the winter I separate, in the summer I marry. It's been 15 years since I've been getting married every year. ~Vanessa Paradis
Summer Quotes - Quotes about Summer
It was around the summer of 1982 when the drug problem really impacted. It became a lifestyle rather than a recreation. When you start lying and stealing, you cannot con yourself you're in control any more. ~Irvine Welsh
It was June, and the world smelled of roses. The sunshine was like powdered gold over the grassy hillside. ~Maud Hart Lovelace
It was one of those March days when the sun shines hot and the wind blows cold: when it is summer in the light, and winter in the shade. ~Charles Dickens
It will not always be summer; build barns. ~Hesiod
It's a cruel season that makes you get ready for bed while it's light out. ~Bill Watterson
Summer Quotes - Quotes about Summer
Like a welcome summer rain, humor may suddenly cleanse and cool the earth, the air and you. ~Langston Hughes
Long stormy spring-time, wet contentious April, winter chilling the lap of very May; but at length the season of summer does come. ~Thomas Carlyle
Love is to the heart what the summer is to the farmer's year - it brings to harvest all the loveliest flowers of the soul. ~Author Unknown
My first few films were institutional comedies, and you're on pretty safe ground when you're dealing with an institution that vast numbers of people have experienced: college, summer camp, the military, the country club. ~Harold Ramis
No spring nor summer beauty hath such grace as I have seen in one autumnal face. ~John Donne
Summer Quotes - Quotes about Summer
Nothing is as easy to make as a promise this winter to do something next summer; this is how commencement speakers are caught. ~Sydney J. Harris
Occasionally I have come across a last patch of snow on top of a mountain in late May or June. There's something very powerful about finding snow in summer. ~Andy Goldsworthy
One benefit of summer was that each day we had more light to read by. ~Jeannette Walls
One of my school friends' parents owned a minigolf course, and a bunch of us kids would play there all day in the summer. Two-under deuces was a good score. ~Jack Nicholson
People don't notice whether it's winter or summer when they're happy. ~Anton Chekhov
Summer Quotes - Quotes about Summer
Rest is not idleness, and to lie sometimes on the grass on a summer day listening to the murmur of water, or watching the clouds float across the sky, is hardly a waste of time. ~John Lubbock
Rest is not idleness, and to lie sometimes on the grass under trees on a summer's day, listening to the murmur of the water, or watching the clouds float across the sky, is by no means a waste of time. ~John Lubbock
Some people plant in the spring and leave in the summer. If you're signed up for a season, see it through. You don't have to stay forever, but at least stay until you see it through. ~Jim Rohn
Summer afternoon, summer afternoon; to me those have always been the two most beautiful words in the English language. ~Henry James
Summer bachelors, like summer breezes, are never as cool as they pretend to be. ~Nora Ephron
Summer Quotes - Quotes about Summer
Summer has set in with its usual severity. ~Samuel Taylor Coleridge
Summer-induced stupidity. That was the diagnosis, I decided as I made my way up the dirt path in the pouring rain. ~Aimee Friedman, Sea Change
Teachers can go on cruises with the National Oceanographic and Atmospheric Administration and anyone can spend the summer as a volunteer in a National Parks and even earn money doing it. ~Matthew Lesko
Tears are the summer showers to the soul. ~Alfred Austin
Tears of joy are like the summer rain drops pierced by sunbeams. ~Hosea Ballou
Summer Quotes - Quotes about Summer
That makes me think of the 2002 World Cup Final above all else. Nobody thought at the time that our team would get through to the Final against Brazil. We should remember that this summer. ~Angela Merkel
The coldest winter I ever spent was a summer in San Francisco. ~Author unknown
The end-of-summer winds make people restless. ~Sebastian Faulks
The heroes of our youth grow old - 'the boys of summer in their ruin,' in Dylan Thomas's verse - yet we seem the same. ~John Thorn
The Indian Summer of life should be a little sunny and a little sad, like the season, and infinite in wealth and depth of tone, but never hustled. ~Henry Adams
Summer Quotes - Quotes about Summer
The Recovery Act is working, but it's going to continue to work. It's not over. A lot's going to happen this summer. And even after the summer, there's more to come with the act. ~Joe Biden
The summer before I went to culinary school, my family wanted me to take a job on a movie to make sure that I was making the right decision. I think they hoped I would change my mind about culinary school. ~Giada De Laurentiis
The summer night is like a perfection of thought. ~Wallace Stevens
The sweltering summer of the Negro's legitimate discontent will not pass until there is an invigorating autumn of freedom and equality. ~Martin Luther King, Jr.
There is a harmony in autumn, and a luster in its sky, which through the summer is not heard or seen, as if it could not be, as if it had not been! ~Percy Bysshe Shelley
Summer Quotes - Quotes about Summer
There is something deep within us that sobs at endings. Why, God, does everything have to end? Why does all nature grow old? Why do spring and summer have to go? ~ Joe Wheeler
There shall be eternal summer in the grateful heart. ~Celia Thaxter
Time always seems long to the child who is waiting - for Christmas, for next summer, for becoming a grownup: long also when he surrenders his whole soul to each moment of a happy day. ~Dag Hammarskjold
We know that in September, we will wander through the warm winds of summer's wreckage. We will welcome summer's ghost. ~Henry Rollins
We only work four days a week, we only work three weeks out of the month, and we get four months off for the summer. So there's plenty of time for me to spend with the kids. ~Patricia Heaton
Summer Quotes - Quotes about Summer
Well, look at all of these summer blockbusters. You can't help but laugh a little, because you've already seen a lot of these movies 482 times. ~Sean Penn
What good is the warmth of summer, without the cold of winter to give it sweetness. ~John Steinbeck
What is one to say about June, the time of perfect young summer, the fulfillment of the promise of the earlier months, and with as yet no sign to remind one that its fresh young beauty will ever fade. ~Gertrude Jekyll
When I grew up there wasn't air-conditioning or anything of that nature, and this old car had a wall thickness of about ten inches. So we had a little warmer house in the winter and a little cooler in the summer. ~Merle Haggard